No Boundaries
Barnacle City
Resembling a miniature city, scraps of Belgian block and brick are revealed at low tide. As the tide rises viewers can imagine the effects of sea level change to Boston.
Zen under the Zakim
Ripples are raked with a custom sled into the crushed stone under Zakim Bridge.
The Giving Tree
A painted stump on the Commonwealth Avenue Mall.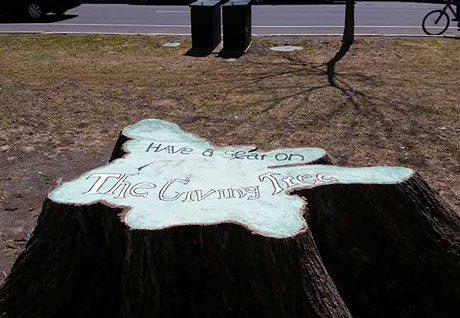 Lego Fill
A gap is filled on Congress Street between the Children's Museum and the Fire Museum.
Stacked Logs
A utility building is transformed into stack of logs.
‪Laptop Guerrilla Art Projec‬t
Located next to the Harbor Towers in Boston, the two large stainless steel sculptures (installed in 1964 long before laptop computers existed) are examples of minimalist art. The six painted vinyl decals transform them into laptop computer facsimiles—pop art.